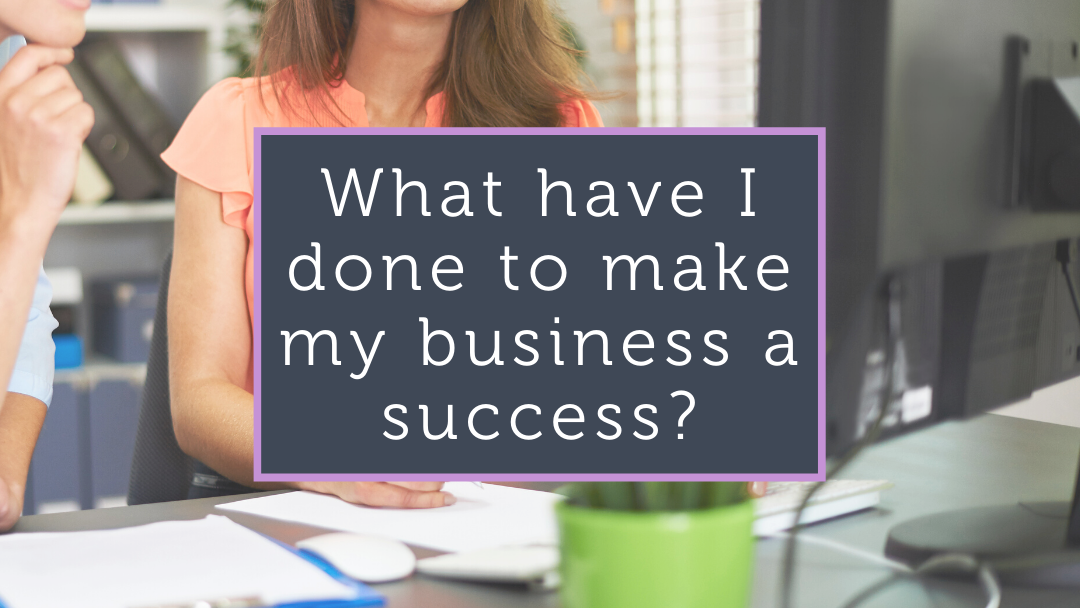 Many of you would know that I never considered myself a businesswoman or someone with entrepreneurial drive. I started my business due to circumstances – my husband's job was moving him to Pingelly and I could not continue my government grants assessor job from the regions. I had no special training, skills or business knowledge when I started; I just knew about grants and government.
And yet, business is booming. In any way I look at it, my business has been a success from the beginning and is continuing to grow. From starting as a sole trader, Whitney Consulting is now a company with amazing staff and we're always busy. It often makes me pause and wonder why. With more than 60% of Australian businesses failing within the first 3 years, what is it that I have done to be so lucky? Here are the answers I have come up with to that question:

When I started the business, I spoke with a lot of people who knew more about business than me. I asked them questions about how to do things, what I should and shouldn't do and for any general advice they had. I didn't do everything I was told, and some of the advice was conflicting, but I did listen and then think about it. I considered what I thought would work and what made sense to me. Then, and this is the part where a lot of people get stuck – I actually implemented everything that I thought would help to grow my business.
Even if I didn't want to do it. Even if I didn't know how to do it and needed to get someone to teach me. I had no idea how to use Mailchimp to send an e-newsletter and I really disliked learning it – but I knew that people wanted to be informed about what grants were available and having my email telling them that each month made a lot of business sense. So I did it, every single month. I did not enjoy it, but I did it until I could afford to outsource it to someone who is way better at Mailchimp than me!

This applies to everyone – clients, competitors, staff. Now I am not claiming to be one of those super nice people who are always happy and kind, but I do have some serious morals and ethics. Contrary to the popular opinion that you need to be hard and competitive in business, I believe that my softer values have helped Whitney Consulting to succeed.
I have a 'biz bestie' who has given me some amazing advice, kicks in the pants and supportive shoulders over the years and she is a direct competitor. We do some of the exact same things. And yet, we share a lot. We don't hide information from each other in the hope we will get that job or grow quicker than the other. Because that is not in line with our morals – we want each other to succeed and we will do everything we can to help. We have referred clients to each other, worked together on jobs and she has definitely given me some of her business wisdom. I would not have had any of these benefits if my approach had been to compete and not to trust her.
Likewise, I refuse to do the hard sell or charge a client for something they don't need. I see my job as getting people money for their amazing projects and I want to do that in the most effective, efficient way possible. If my services are not going to be value-for-money for someone, or are not likely to lead to success, then I will tell them. Again it may seem contrary to business success to not try to sell my services to clients but you would be amazed the amount of times having this ethical approach has come back to me in referrals and repeat clients.

My business does grants, tenders, business cases and all things project funding related. That is it. Having a background in Federal, State and Local Government, there are plenty of other services I could offer, but I don't. There are two reasons to this. One is that I want Whitney Consulting to be known as the grants and tender people. We want people to have a very clear idea of what we do because it makes it a lot easier for them to refer people to us.
The other is that I only feel good about offering the services that I honestly believe I am the best person to provide. If I think there is someone better out there, then I will refer the work onto them and not try to do it myself. I am sure I would do a good job because I would work hard until I felt the quality was there, but if I don't believe I am the best person then how can I accept that client's money? Yet again I can see some people saying that this is not good business sense, but it's working for me and I can be proud of the company I have created.

The staff at Whitney Consulting have a running joke – whenever I say that 'it's not too busy at the moment', 'it's a bit quiet' or 'we don't have too much coming up' then an avalanche of work will come in. They groan each time I say it because they know we will soon be flat out. But the reason behind that is I am constantly and consistently looking for ways to increase awareness of Whitney Consulting and what we do. I don't sit back and wait for the work to come or assume that, just because last year was a great year then this year will be too. I am always looking at how people find us and how we can let more potential clients know about us. Whenever I have a spare 5 minutes, I am writing social media content or updating the website or doing something that may not see immediate results but will ensure steady growth. I am certainly not taking success for granted!

This one is pretty much a given. People don't want to pay for something that isn't any good. Whitney Consulting are known for producing high-quality work and for being experts in our field and that is why we are successful. I don't believe any business can succeed for long if their clients do not see the value in the work they produce. A lot of our clients are repeat clients or referred from past clients so word-of-mouth is absolutely key. If you produce good work and help clients with their problems, instead of just trying to sell to them, you will always be in with a chance of business success.
There is still a lot about running a business that I need to learn but that is ok because I believe I have the basics right. With the right people around me, the right attitude and expertise in my field, I am confident that I can continue to make my business a success. And I am always willing to listen and learn, so what are your business success tips?