Writing tenders can be daunting
as they can take a lot of time and effort. 
This is especially the case when you are not familiar with the process. 
However, the outcome of a successful tender is worth the effort 
– 
it can provide
 guaranteed income 
for a defined period 
and 
be 
very 
beneficial to your 
business's future.  
The decision to write a tender can be difficult when you are weighing up your staff's time versus potential income.  However, there are other options; you may consider hiring a professional tender writer.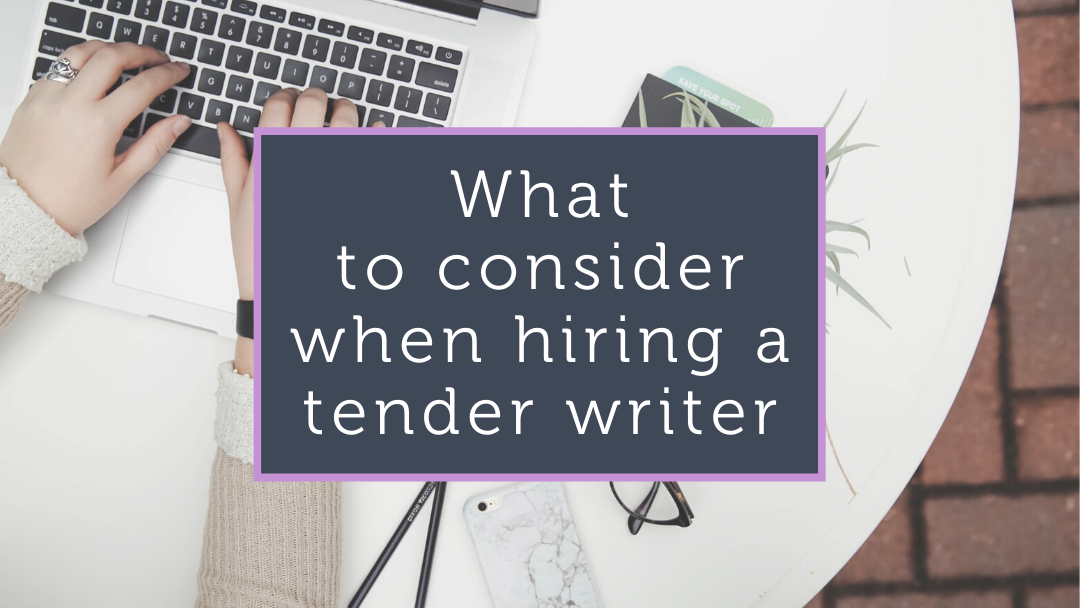 The skills, knowledge and experience of a professional 
t
ender 
w
riter can mean the difference between being successful or unsuccessful. However, 
they do cost money and no-one can guarantee the tender outcome. So how do you decide?
The
 points below 
may 
help
make
the 
decision 
on whether to hire a tender writer 
a little easier.

If so, a professional writer will 
prepare
 a base template 
that you can use 
for future tenders
. 
Every tender is different and requires slightly different responses based on the requirements and weighting of the tender. However, you will be able to easily adapt the document from one tender to the next – cut and paste is your friend
!
This
 will save you time 
and money 
in the future
, whilst ensuring you have a professional response to submit.

A
 significant amount of time 
goes into the preparation 
of a
 tender
. Y
ou are required 
to gather information that supports why you are the best candidate for the job
 and what you will actually do as part of your proposed service. This 
include
s
 company details, milestones or proposed schedules, budgets
,
 as well as governance and management 
and details of previous similar contracts you have completed
. This alone can be a time
–
consuming process and then you still need to write the actual document. 
You need to craft compelling responses to the qualitative criteria to ensure you score well. 
Many people underestimate how long it will take and rush to complete 
the tender
, often missing vital bits of information
 or not highlighting important points
. 
A business or organisation can rarely give a tender their full and undivided attention as they still need to do their everyday job. A professional tender writer will have the time to dedicate their attention to complete the job whilst not impacting the day-to-day running of your business.  

If you do not understand what the requirements of the tender are, then you are unlikely to be successful. A tender can be confusing and has a series of questions around specifications, processes and compliance contained in the document. It 
can be difficult to understand what the requirements of completing a response are if you are not familiar with the process. Addressing the criteria is equally difficult. You need to understand how to actually 
demonstrate
 your ability/experience and not just make a claim or statement.
Professional tender writers have the experience, skills and knowledge necessary to know what the requirements of each tender are and how to paint your organisation in the best light through the criteria responses. If you find the process confusing, it is time to consider using a professional. 

Being close to any project
/proposal
 and knowing it inside and out is not always a good thing, especially when it comes to writing tenders and funding documents. 
At Whitney Consulting, we
have seen numerous instances of someone so passionate about a project or organisation 
that 
they 
talk about how good their
 company
 is
, 
addressing points 
that weren't relevant to the 
question
at all. 
And they did not answer the criteria, meaning their score would have been zero for that section, despite being an amazing company.
Professional tender writers will remain objective about your project and will ask the right questions to ensure only the relevant information pertaining to the success of the tender is included in the document.
Now – If you have just identified that you do in fact need a professional tender 

writer,

 I am sure your questions don't stop there – how do you choose one?

Most professional tender writers will either have a website, or be on social media, 
typically
 Facebook or LinkedIn. Their website 
can be
 a minefield of information about previous successful bids and testimonials from past clients. However, if the information you are looking for isn't there, don't be afraid to ask! It is better to be informed then 
to 
still have questions
 before contracting anyone
.

'
G
ove
r
nment speak
' is a thing!
Government
 ha
s
 a different 
focus and a different 
way of doing things
 compared to business
. So
,
when applying for a government tender you really need someone who is profic
ient in their lingo and knows about their procurement processes and how they assess tenders
.
This information could be readily available on the tender writer's website, alternatively you can ask them for their resume
 or past experience with government
.
Probably the most important one! Ask around
 – a
sk your friends, family, colleagues 
etc 
who they have used and if they would recommend th
is person
. If someone you know
,
 or trust is willing to vouch for this person
,
 that 
is 
a good indication to go ahead.
If you can't find a recommendation, don't hesitate to ask a potential writer to provide you with referees…and then actually contact the referees! Ask them questions about the process of working with the writer, the quality of their work, the value for money and anything else you are curious about. 
As you can see there is a lot to consider when it comes to hiring a 
tender 
writer. We hope that the information we have provided helps you make a well-informed decision. If you would like to discuss the ways in which we can assist you with your 
tender document
, please contact us on 0422 228 162 or by email 
tara@whitneyconsulting.com.au
.